The ability to find a client and bring his attention to a product is the key to success for your SaaS. These competencies are crucial especially when your product is in the early stages of development and each new paying client is precious. You probably know a lot of methods of gaining customers however, not all of them work when you are trying to sell a beta version of your product.
SEO and Content Marketing gives results, although you might have to wait a long time. Additionally, setting up the content strategy as well as defining your target group might take weeks. On the other hand, sending the information about your business to your friends is a great idea to get your first feedback, but the chances that your friends will become paying clients are rather low.
Taking into consideration that the paying client is the one who sees the added value in the product, makes him the center attention for SaaS. So how to gain the first paying users who will see the greater value in your solution? The answer is cold emailing. 
Everything is cold, even emails.
The cold emailing solution will help you reach particular people from your target group. In addition to classic emailing, you wouldn't have to fight your way through gatekeepers (secretaries, assistants, and lower level employees) in order to reach decision makers. What's more, if you decide on the following methods, you will cut your expenses (buying new databases and paying for telemarketing services won't be a bother anymore). That is great news, isn't it? At the beginning, all companies struggle with tight budgets, so I have turned the classic approach around. Instead of sending hundreds of anonymous emails, I have send just a few but fully personalized. Guess what? It works!
Do you know what you can find in an average mailbox? According to the statistics, 90% of send emails are not in line with thereceivers' interests, only 10% have the ability to catch their attention. According to this, the main goal of the Cold Emailing Approach is to send a message which will be considered worth reading (magic 10%).
So 'the" question is: how can I get leads and establish relations with potential customers? Below I will show you a few, simple methods. However, before we start our journey we need to clarify one thing.
Who is your customer?
In the case of well-developed products, the question is easy to answer. The situation changes when you only have the beta version. As long as you don't have any users, defining who your target group is, becomes pretty challenging. So, how can you determine who your customer is? Test! Only by carrying out tests you will find out who is ready to pay for your solution.
In order to define who your client is, you should answer the following questions:
Country – in which geographical target group your actions are focused?
Industry –to which industry is your solution dedicated?
Company size – are small/ medium size companies or international corporation in your target group?
Decision maker – who are the decision makers in the companies from your target group?
Take time to answer these questions. Once you define who your client is, you need to prepare a simple database in Excel.
You can also download it here.
Thanks to this ready-to-use template you, will save a few minutes of your time.
Time to find your leads
In order to find your leads, you first need to describe them.
My potential customer is a CEO, who is running his own medium-size (11-50 employees) Software House in the USA. How will I find people whose profile is relevant to my description? I will use LinkedIn
Type the keyword in the browser. Next, use the left sidebar to narrow your search. Then, select companies, region, company size and other relevant criteria.
Now, go to the profile of a given company to find the decision-maker.
Notice that you can see all the company's employees in the top right corner. Now, click on the "see all"  button in order to see the list of employees which contains basic data such as: first and last name, job position etc.
The third profile on the list belongs to the person we are looking for. We will try to get his e-mail.
TIP: Notice, that the profile of person we are looking for will not always appear on the top of the list. Sometimes you will need to spend more time to finding the right person.
Some people put their e-mail addresses on their LinkedIn profiles. In this case, you need to click on the "Contact Info" tab
However, you need to prepare for the more common situation, when this information is not publicly available. So how to get the e-mail?
You need to have the three primary information.
First name
Last name
Company domain
You already have his first and last name. Now, you need to know which domain the company has.
To check that you need to go back to the company's profile.
What if there isn't any information? You need to use Google.
Type the company name. In most of the cases (95%) one of the top results would be the company domain
Next, you need to use the Free Lead Generator.  My team has created a special tool, which will help you find contact details of a potential customer.
Type in the data you have: First and Last name, Company domain and our generator will prepare 34 most probable e-mail addresses. Copy them to the clipboard.
To find out which e-mail address is correct, open your Gmail  account and paste all 34 addresses as a sender. However, before you will do that you need to install free Gmail plugin – Rapportive (the Google Chrome plug in).
Now move the mouse cursor between all addresses – one after the other. Rapportive automatically matches any given e-mail address with its existing social media accounts. If the plugin finds a match, you can be 100% sure that it is the correct e-mail address.
Check the gif below to see how it works.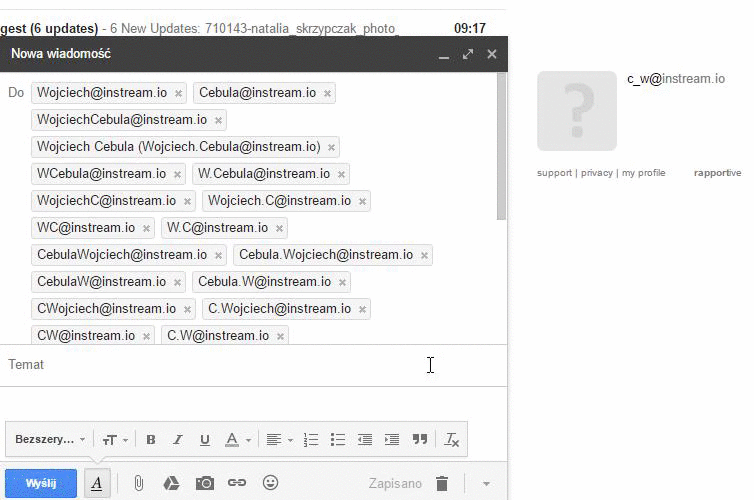 You can paste gathered data to an Excel file and generate more prospect data until you reach a sufficient number. When you master the entire process, it will only take you a few minutes to get the new lead.
What's next?
It depends on how many emails you want to send. If you want to send just a few emails, the classic mailbox would be ok. Additionally, if your needs are bigger, I would advise you to make use of the mass emailing tools or test new solutions (dedicated to cold emailing) eg. Prospect.io , Woodpecker.co, Quickmail.io. These tools will help you automate at least the part of the process.
Although, the automation saves you time, you should always keep in mind, that if somebody actually responds to your email, you can't let him feel the he is talking to a robot. Trust me, this is the last thing you want. On the other hand, if you have prepared good emails and follow-ups everybody may still not classify your email as the magical 10%. According to the statistics, 1-5% will ask you to delete their data from your emailing list, 70-80% will not respond to you at all, and only a few people will write back to you; "Sounds interesting, please show me more features of your product". During the next steps you will only communicate with those people.
by
Filip Duszczak, CEO InStream
Filip Duszczak is the CEO and Founder of InStream and has several years of experience working as a sales specialist and business developer.